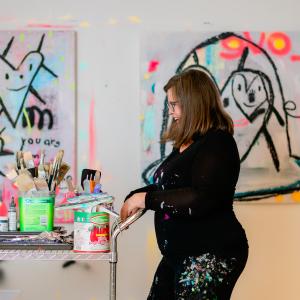 Cherie Harte
Artist member since 2019
Pro
Vankleek Hill, ON
Cherie (b.1973) is a self-taught artist following in the tradition of Art Brut . Harte utilizes gestural painting techniques that juxtapose a character's complex inner life with tangible expressions of naïveté and innocence. Her paintings trigger a blending of feelings that express the full gamut of emotions. She accomplishes this feat by tapping into her own life experiences, from the saddest to the most uplifting.
Harte's characters are presented as childlike and playful; created through a meditative process that engages in an inner dialogue with the artwork. Although initiated by an arbitrary approach, Harte is methodical in her use of mark-making as a tool, she boldly scratches the surface of work.
Cherie Harte's paintings present a cast of characters reminding us of our own fragility and strength.
Her ability to stir the rawness of our emotions, if we dare to engage, is the gift Harte has offered generously through her artwork since she began painting professionally over 10 years ago. Her characters invite us to connect with our inner selves, confront our discomforts, demand empathy and offer a sense of hope.
"My work transports me to this magical place. A space where social constructs and labels dissolve and all that remains is the essence of love, vulnerability and deep abiding connection often felt in childhood. It is a place where my memory and life experience meet my inner child and all of me can come out to play. A place where I can dive in and explore love, unity and the power of transformative work.
My deepest desire, my dream, my promise to myself, is to make the world a more inclusive and loving place. I believe love is contagious and creating art allows me to explore and amplify that love both in and out of the studio!"
Cherie's work is held in collections throughout Canada, the USA, England, Australia, China, Korea and Japan.
---
Favourite book
All About Love - Bell Hooks
What artists do you admire right now?
Frida Kahlo, Joan Mitchell, Helen Frankenthaler
Describe your home in 3 words
Century, cozy and lively.
Describe the person your work appeals to in 3 words
Fun-loving, curious, modern
Coffees per day and from where
1 coffee a day from my Nespresso machine at home...unless I am meeting a friend at a small, local café.
How long have you been creating art?
I have been creating since I was knee high to a grasshopper! My formal art career began in 2016 with a group exhibit at Art Embassy Gallery in Toronto.
Upcoming Exhibitions
2022-05-01
2022-05-23
2022-06-18
2022-07-08
2022-09-16
2022-09-22
Select Past Exhibitions
2019
2019
2019
2019
2019
2019
2019
2020
2020
2020
2020
2020
2021
2021
2022
2022
2022
2022
2022
What do you mean, "try"?
Try-before-you-buy with a 3 month rental. 100% of your rental payments go towards the purchase (interest free). Message the artist directly, and start the conversation.
---
Art made (truly) affordable
We make it easy for you to try art with smart payment plans and try-before-you-buy models.
See How It Works
---
You're covered.
Artwork protection is included on all art rentals up to $10K. Our Customer Care team is always here to help.
Contact Us
---
Unlock Trade Access
For industries including interior design, film/TV production, & real estate staging: rent original pieces that fit with your project vision, budget and timeline.
Apply for Trade Access
---
1% from every transaction goes towards a Canadian arts nonprofit.